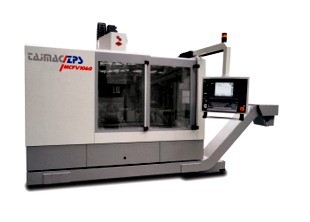 Machine for modern high performance technology.
Enables execution of milling, drilling, boring, reaming, and tapping operations.
Machine skeleton optimum strength and rigidity is achieved by finite elements method application.

» High dynamic and thermal machine stability
» Max. table load 3,000 lb
» Direct belt spindle drive
» Modification with five controlled axes
» High-speed spindle with max. 12,000 rev/min.

STANDARD VERSION
» HEIDENHAIN iTNC 530 control
» SIEMENS digital drives
» HEIDENHAIN linear scales
» CAT 40 taper, 30 tool capacity arm type ATC
» Central lubrication system
» Tool holder and spindle cavity
automatic air blower
» Cooling unit with tool coolant system
» Telescopic cover rinse wash
» Electronic compensation
OPTIONS
» Through spindle tool liquid coolant
» Through spindle tool air coolant
» Through spindle coolant unit with filtration unit
» Rotary table, 4th, (4th and 5th) controlled axis
» Workpiece probe
» Tool probe
» Spindle headstock thermal stabilization
» High speed spindle unit 50,000 rev/min
» Direct change ATC
24 (2x24) tools (CAT 40)
16 (2x16) tools (CAT 50)
» ATC
30 tools (CAT 40)
24 tools (CAT 50)
» Manual pallet changer, dimensions 30" x 18"
» Swarf conveyor
» Swarf pans
» Taper CAT 40, BT 40, ISO 40
CAT 50, BT 50, ISO 50
» Workspace rinse wash (top, bottom)
» Controls: SINUMERIK 840 D
SELCA S 4045 PD
Dyna Path DELTA 2000
FANUC 18i, (180i)