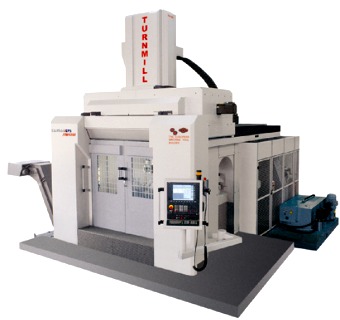 TURNMILL 1250 represents a next generation multiprofessional multiaxis
machining centre.

Top efficiency vertical turning center

TURNING
- turning of both internal and external rotary surfaces,
- constant cutting speed face turning,
- internal and external
thread turning.

Top efficiency vertical and horizontal machining centre

MILLING
- all kinds of milling technologies
corresponding to machining
on vertical
and horizontal centres,
- drilling and boring
jobs.



Grinding head application extends
technological operations to flat
and general surface
grinding.

GRINDING
- of cylindrical and conical surfaces,
- face grinding and perpendicular – to -
clamp surface grinding,
- grinding of generally shaped surfaces
perpendicular to
clamping
surface.


STANDARD VERSION
» SINUMERIK 840D control
» SIEMENS digital drives
» Linear absolute optoelectronic encoder
» Cooling unit with tool coolant system
» Segmental swarf conveyor
» Clamping plate
» Machine enclosure complex system
» Through - spindle tool liquid coolant
» Through – spindle cooling unit with filtration

OPTIONS
»
Working heads
»
High pressure liquid coolant UHPC equipment

»
65, 85 or 120 tool capacity magazine
»
Exhaust air system

»
Workpiece probe

»
Tool probe

»
Pivoted see-through hatch

»
Tool and workspace rinse wash system

»
Cutting process monitoring
»
Three or four jaw self-centring chuck
»
Palletization
»
Remote diagnostics of control

»
Manual control board

»
Coordinate transformation